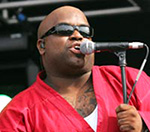 Cee-Lo Green
has debuted a preview video for his new single 'F*ck You'.
The track - which can be watched below - is taken from the Gnarls Barkley star's latest solo album, provisionally entitled 'Cee-Lo Green Is The Lady Killer'.
The follow-up to 2004's 'Cee-Lo Green... Is the Soul Machine' is due out later this year.
A full video for 'F*ck You' will premiere next week. The song is released as a single on October 4 in the UK and US.
As previously reported, '...The Lady Killer' features collaborations with producers Paul Epworth, Salaam Remi and Fraser T. Smith.
Cee-Lo Green - 'F*ck You':
(by Jason Gregory)