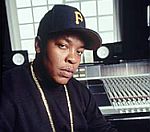 Dr Dre
's new album '
Detox
' has been described as "epic" by one of his labelmates.
Fellow rapper Lloyd Banks is one of the few people to hear the long-awaited album, which has been hit by a number of delays.
"It's history, it's classic, it's epic. It's like L.A. stand up, it's like West Coast," he told Rap-Up.
Banks's comments follow the recent leak of another song from 'Detox'. The track, entitled 'Turn Me On', appeared online earlier this month.
In June, the Jay-Z-featuring 'Under Pressure' also appeared on various file-sharing websites.
'Detox' is Dr Dre's long-awaited follow-up to his 1999 album, '2001', and is expected to arrive later this year.
Meanwhile, the rapper and producer recently revealed that he was also working on an instrumental hip-hop album.
(by Jason Gregory)