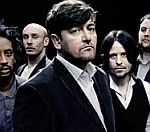 Elbow
have revealed that the working title for their new album is 'Lippy Kids'.
Singer Guy Garvey said the group were still recording the follow-up to 2008's 'The Seldom Seen Kid' and that it would be released next year.
"We're all buzzing off it," Garvey told BBC 6 Music. "You have periods of nervousness and then you have periods of elation.
"And we're all buzzing off it at the minute."
Referring to the working title, Garvey added: "It's quite a nostalgic thing. I've got a thing about growing up. Not needing to!
"But a certain period of your life when - well kids are called 'hoodies' these days aren't they when they reach their teens. I remember it being an amazing important time, so I've written a lot about that."
'The Seldom Seen Kid', which was the band's fourth studio album, won the Mercury Prize.
(by Jason Gregory)