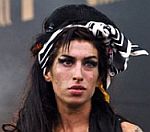 Amy Winehouse
has sparked fears after she went on a 16-hour bender following a row with her boyfriend, it's been reported.
The singer, who has battled a drink and drugs problem, was pictured lying slumped on a pub table at 9.30am on Tuesday (August 3).
According to The Sun, Winehouse began her night out at 5pm on Monday (August 2).
She was spotted at a number of different pubs, including with actress Mischa Barton at The Hawley Arms in Camden.
Winehouse apparently ended the night outside a pub owned by boyfriend Reg Traviss's parents and was nearly knocked over by a passing car.
A source said: "She was totally gone. She'd no idea what she was doing. She said her boyfriend had no respect for her and was blubbing away - I gave her a tissue."
Winehouse has received treatment for drink and drug addiction in recent years and is currently recording her new album.
Winehouse said recently that she expected to release the record in the new year.
(by Jason Gregory)