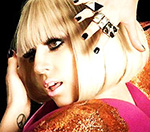 Lady Gaga
has been nominated for a record-breaking thirteen MTV Video Music Awards.
The singer's nominations include Best Female Video, Best Pop Video and Best Dance Music Video.
In a statement, Lady Gaga said: "I'm so honored for all the little monsters and self-professed freaks of the universe, to have more VMA nominations in a single year than any artist in MTV history.
"Ironically, I'm even more proud it's an unlucky number: 13."
The singer said that she and her fans - "Little Monsters" - had "changed the rules", adding: "God put me on Earth for three reasons: To make loud music, gay videos and cause a damn raucous."
Eminem has been nominated for eight awards, including Video Of The Year for recent single 'Not Afraid'.
Florence & The Machine, 30 Seconds To Mars and B.o.B are also shortlisted for the award.
Other nominees this year include Usher, Katy Perry, Taylor Swift and Justin Bieber.
The 2010 MTV Video Music Awards will take place at the Gibson Amphitheatre in Los Angeles on September 12.
As previously reported, Lady Gaga has revealed that she occasionally uses cocaine.
(by Jason Gregory)