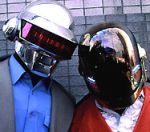 New
Daft Punk
songs taken from the soundtrack to the forthcoming movie Tron Legacy have reportedly appeared online.
The tracks, which are not titled, are currently being hosted by US radio station 107.7 The End.
Although their authenticity has not been confirmed, the exerts appear to resemble to music used in the trailer to movie, which is released later this year.
As previously reported, Daft Punk are writing the entire score for Tron Legacy.
Speaking at Comic-Con in San Diego, Director Joseph Kosinski the French electronic duo were currently completing work on the project.
"It's a new direction for them that they're really excited about, and it's so tied into the film because we developed them both together," he added.
The soundtrack has yet to be given an official release date. The sci-fi film is scheduled to arrive in cinemas on December 17.
The sequel to 1982's Tron stars the likes of Jeff Bridges and Michael Sheen, as well as Daft Punk, who make a cameo as two MP3 programs.
Tron Legacy trailer:
(by Jason Gregory)