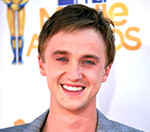 Tom Felton, who is best known as for his role as Draco Malfoy in the Harry Potter films, has signed a record deal.
The 22-year-old British actor has a secured a contract with Six Strings Productions and is due to record an album.
"Tom Felton has signed and the album is very much on its way," the company said in a post on Twitter.
Felton has previously released two online EPs – and you can hear one of his songs below now.
He told The Sun that he was a "keen musician" and looking forward to branching out from acting.
"We have a great band behind us and have turned my nursery-rhyme songs into quite credible pieces of music," he said.
The release date for Felton's as-yet-untitled album has yet to be revealed.
(by Jason Gregory)