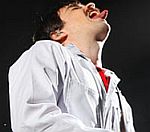 Weezer
frontman Rivers Cuomo has revealed that he was a close follower of the recent football World Cup in South Africa.
The singer told The News Times that he was originally introduced to the sport by his father, Frank, and has attended three America games.
The group also recorded a song, entitled 'Represent', which was played before the USA's games in South Africa.
"I've been a fan of international soccer, the World Cup and our national team for as long as I can remember," he said.
Cuomo added that he was pleased that the USA had used the band's song during the tournament.
"They were even playing it in the locker room after their win against Algeria," he added. "I was so happy to be involved, even in a tiny way."
Meanwhile, the singer also revealed that the band's as-yet-untitled new album would be released on September 13.
He assured fans that their new album will be full of "rock energy", adding: "I've spent the entire morning trying to come up with a name for the record. How does Heavy Mental sound?"
Weezer's last album, 'Raditude', was released in 2009.
(by Jason Gregory)