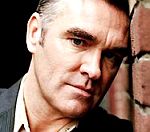 Morrissey
is set to release a 20th anniversary edition of his popular compilation album, '
Bona Drag
'.
The album, originally released in October 1990, featured the first seven of Morrissey's solo singles after his departure from The Smiths.
In addition to the original album, the reissue will include six previously unreleased songs from the same era.
Morrissey has overseen and remastered the release, which will be accompanied by the original cover image, as well as updated back and inner artwork.
The reissue of 'Bona Drag' is due to be released on CD and double heavyweight vinyl on September 27.
The tracklisting is:
Piccadilly Palare

Interesting Drug

November Spawned A Monster

Will Never Marry

Such A Little Thing Makes Such A Big Difference

The Last Of The Famous International Playboys

Ouija Board, Ouija Board

Hairdresser On Fire

Everyday Is Like Sunday

He Knows I'd Love To See Him

Yes, I Am Blind

Lucky Lisp

Suedehead

Disappointed
Previously unreleased songs:
Happy Lovers At Last United

Lifeguard On Duty

Please Help The Cause Against Loneliness

Oh Phoney

The Bed Took Fire

Let The Right One Slip In
(by Jason Gregory)