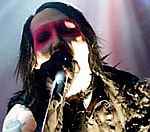 Marilyn Manson
is set to star in a slasher movie with his partner Evan Rachel Wood.
The shock-rocker will appear in Splatter Sisters, the first of a movie franchise inspired by cult horror classics of the 1980s.
Director David Gordon Green, the man behind Pineapple Express and the upcoming remake Suspiria, unveiled the project at the Cannes Film Festival over the weekend.
At a press call, Green said Manson and Wood were perfect for his new project.
"This is a role Marilyn Manson was born to play," he enthused. "And with Evan Rachel Wood bringing dramatic gravity to the ensemble, I have no doubt this will take the horror genre to a new level."
(by Scott Colothan)