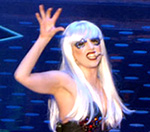 Lady Gaga
was left "furious" after key features of her Monster Ball tour went missing before the opening night in Manchester last night (February 18), it's been reported.
The singer was apparently distraught after parts of her stage set and a number of costumes disappeared.
"Right up until the wire there was a mad panic," a source told the Daily Mirror.
"Gaga lived up to her name when she arrived to find half of her costumes had not arrived and pieces of the set were missing.
"She has spent over a million pounds on this new stage show so she was furious that everything wasn't in place."
Despite the last minute problems, Lady Gaga still wowed fans at the Manchester Evening News Arena with a dramatic "electro opera".
The performance – which was the first of ten UK dates – was divided into four parts: City, Subway, Forest and Monster Ball.
The tour continues next Wednesday (February 24) at the Echo arena in Liverpool.
(by Jason Gregory)