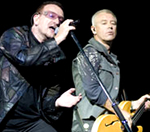 U2
's 360 degree world tour, which featured a huge "claw" structure, has been crowned the best stage show of 2009.
The jaunt picked up the accolade - voted for by stage crews - at the Total Production International Awards, hosted by TPI magazine.
The stage set featured an innovative 360 degree design which affords an unobstructed view for the audience.
"It is a massive engineering feat - from scenery to video to audio, with the biggest PA system that has ever been seen on a tour," the magazine's editor-in-chief Mark Cunningham said.
"It's a fantastic achievement and the four members of U2 are effectively the icing on the cake."
U2 production guru Willie Williams took home two awards while guitarist The Edgie's roadie Dallas Shoo also won, reports the BBC.
U2's 360 degree world tour is due to resume this summer with additional European dates, starting in Frankfurt on August 10.
Other concerts are scheduled for venues in Moscow, Munich, Athens and Paris.
(by Jason Gregory)