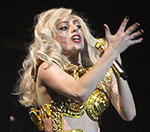 Lady Gaga
says she almost died taking "bags and bags" of cocaine and LSD at the start of her music career.
The multi-million selling pop singer admitted she took drugs in an attempt to follow in the footsteps of famously debauched geniuses like Sir Mick Jagger and Andy Warhol.
Gaga, who makes the revelations in an upcoming autobiography, said: "I thought I was gonna die. I wanted to BE the artists I loved, like Mick Jagger and Andy Warhol - and I thought the only way to do it was to live the lifestyle."
However, she says she saw sense when she thought of her auntie who died young.
"I realised my father's sister Joanne, who'd died at 19, had instilled her spirit in me," Gaga explained. "She was a painter and a poet - and I had a spiritual vision I had to finish her business."
Elsewhere in the book, Gaga describes her most terrifying LSD trip as the moment she thought she met Radiohead's Thom Yorke.
Lady Gaga kicks off the UK leg of her Monster Ball Tour at the Manchester Evening News Arena on February 18th.
(by Scott Colothan)