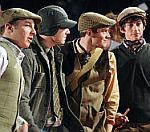 Arctic Monkeys
celebrated the release of their third album '
Humbug
' by playing a sell-out gig at the Brixton Academy in London last night.
With tickets only available to members of the bands mailing list the show also acted as an opportunity for the Sheffield band to warm up for the headline slot at this weekends Reading and Leeds festivals.
On a night featuring a lot of new material the band kicked off with 'My Propellor' before launching into their Nick Cave cover, 'Red Right Hand', and the current single 'Crying Lightning'.
The latter was the first time in the evening the crowd shouted back every word, drowning out Alex Turner at times.
The set had an experimental feel to it with more obscure tracks such as 'House Is A Circus' and 'If You Were There, Beware', from 2007's 'Favourite Worst Nightmare' getting an airing alongside new tracks like 'Dangerous Animal', 'Potion Apporaching', 'Pretty Visitors' and the beautiful 'Cornerstone'.
As usual Alex Turner said very little to the crowd beyond a joke about finishing the set after three songs, a dedication to Josh Homme and asking the crowd how there were.
Despite playing a lot of new material from 'Humbug' old fan favourites were still forthcoming as the now hirsute band tore through 'View From The Afternoon', 'Bet You Look Good On The Dancefloor' and 'Brianstorm'.
The show ended with 'Fluorescent Adolescent' before the band returned with a two song encore consisting of 'Secet Door' and the stunning '505'.
Arctic Monkeys will now go on to headline the Reading and Leeds Festivals this weekend.
(by David Renshaw)