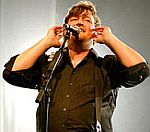 Guy Garvey has revealed
Elbow
have been busy writing songs for their next album.
The band are planning to record tracks for the follow-up to 'The Seldom Seen Kid' following their homecoming gig at the Manchester's MEN Arena on 18 September.
"We've got 30 or 40 odds and ends musically," Garvey told BBC 6 Music."
"I've got a couple of books worth of scribbles, so we're just going to keep doing that for maybe six months."
The singer said much of the new material had been written while the band whilst touring or when they had time off between tours.
Garvey went on to say he had "no idea" when the album would be finished but confirmed that the band will be returning to their studio, Blueprint, in Salford to record the album.
"I'm looking forward to being back in the bunker again, it's a great space on every level and it's got a real community buzz about it." Garvey said.
Elbow are currently supporting U2 on their UK tour which Garvey described as a "childhood dream come true".
"It's a great honour to support them because they're the biggest band in the world at the minute and have been for 20 years, I keep thinking, 'Right what do you do next... apart from that kind of thing yourself?"
(by David Renshaw)