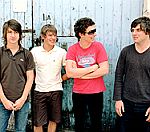 Fans buying 'Crying Lightning' by
Arctic Monkeys
on Monday (August 17) will have a chance of winning tickets to see the band headline the Reading or Leeds festival.
Two of the 7" singles, distributed exclusively through Oxfam, will contain a code which enables the owner to access tickets to the festival.
Forty copies of the single signed by the entire band will also be distributed throughout Oxfam stores nationwide, with a further fifteen available to customers who order the single from Oxfam's website.
The 'Crying Lightning' 7" will cost £2.99, and each single will come with a download code allowing fans to get an MP3 version of the songs for free.
The release of 'Crying Lightning' is the first time Oxfam have released new music in 25 years.
In order to help sustain the chain of shops Domino and Arctic Monkeys are also calling on music fans to bring in any unwanted albums or singles to their local Oxfam shop when they pick up their copy of the single to help Oxfam keep turning yesterday's hits into tomorrows finds for years to come.
(by David Renshaw)