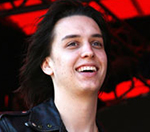 Strokes
front man
Julian Casablancas
has shed light on the details of his first solo album which is entitled "
Phrazes For The Young
".
Speaking to his official website, Casablancas mentioned that he'd taken inspiration from classical music as well as contemporary.
"I'm trying to capture the catchiness of modern music but at the same time the power and seriousness of classical music and older music. In general, the goal is to inspire. I guess that's what art is supposed to do", Casblancas explained.
The 30 year-old also talked candidly about the about the process of writing a solo album compared to one with the Strokes. "With this record I'm able to chase down any crazy idea and to do what I want, so it's fun, but I wouldn't want to do that with this band, it's more collaborative, it's a group effort. So I like them both differently", he stated.
Beirut, Telepathe, Dirty Projectors and Beach House were also singled out by Casablancas as his favourite modern bands.
(by Andrew Almond)