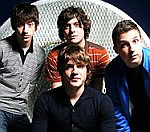 Arctic Monkeys
will release their new single 'Crying Lightning' on 7" vinyl exclusively through Oxfam.
Released on Monday 17 August the limited-edition 7" record will be the first single to be released from Arctic Monkeys third album 'Humbug'. A cover of Nick Cave's 'Red Right Hand' will be the B-side.
The 'Crying Lightning' 7" will be sold at £2.99 and will also include a download code so that fans can get access to a free MP3 of the song.
Oxfam has over 600 second-hand stores nationwide, with music sales making up a large proportion of its income and fans are encouraged to donate any unwanted records or CDs when they come to buy 'Crying Lightning'.
"Oxfam is a Great British institution and it's a delight to be working together on this project. There are about seven hundred Oxfam shops in the UK, many of them in high streets that once housed a record shop, so as well as raising some money for a great cause we are able to get vinyl back onto more of the nation's high streets, which feels good" the founder of Domino Records Laurence Bell said.
"We encourage all customers to bring something of value to donate to the store when they come down to buy the new Arctic Monkeys single", he concluded.
The Sheffield band's new single will be the first new release to be sold by Oxfam since Band Aid's 'Do They Know It's Christmas' in 1984.
(by Andrew Almond)