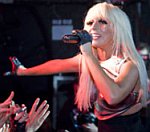 Lady GaGa
has emerged as an unlikely inspiration for tennis star Andy Murray, as he continues his bid to win Wimbledon.
The 22-year-old told Channel Bee that he has been regularly listening to the American singer over recent weeks.
"I really like listening to Lady GaGa at the moment," Murray said, before revealing that he "used" to be a fan of Shakira.
"I even went to see her live in Abu Dhabi on New Year's Eve," he added.
Murray will continue his Wimbledon quest this afternoon against former world number one, Spaniard Juan Carlos Ferrero.
Victory will set up a semi-final match against either the Australian Leyton Hewitt or American Andy Roddick.
(by Jason Gregory)