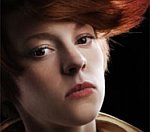 Elly Jackson of
La Roux
has hit out at journalists who label the duo as eighties revivalists.
The singer claims they've never tried to recreate the sounds of the 80's and that they merely make "pop music."
She told The Quietus: "I don't get it... Obviously there's elements of Human League, Heaven 17, Blancmange and Simple Minds, we're not denying that because those were our influences with the album. But we certainly haven't just gone and tried to recreate 80s music.
"But because it's all synths, people go 'oh, 80s'. It's just pop music! The Eurythmics was never seen as electropop, it was just pop music. Neither was Depeche Mode, it's just pop music. This is a fifties-inspired quiff! Get a grip."
La Roux's eponymous debut album is released through Polydor Records on June 29. (@Music)