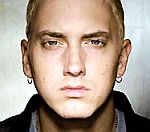 Eminem
has revealed he was "thrilled" by the reaction to his
prank
with actor Sacha Baron Cohen at the MTV Movie Awards.
The rapper stormed out of the ceremony in Los Angeles on Sunday after Cohen's homosexual alter-ego Bruno fell with his crotch in Eminem's face.
Initial reports claimed the rapper's angry reaction was genuine, but an MTV writer later confessed the incident had been pre-orchestrated.
Speaking for the first time about the prank, Eminem said: "Sacha called me when we were in Europe and he had an idea to do something outrageous at the movie awards.
"I'm a big fan of his work so I agreed to get involved with the gag.
"I'm thrilled that we pulled this off better than we rehearsed it. It had so many people going 'nuts', so to speak."
Eminem told Rap Radar that after leaving the Gibson Amphitheatre he returned to his hotel room and "laughed uncontrollably for about three hours".
He also confirmed that his hotel room had been broken into during the ceremony, but denied reports which claimed he had lost thousands of pounds worth of items.
"The only thing was that I lost a Nike watch," he said. "The rest it is made-up like half the other stuff out there."
(by Jason Gregory)