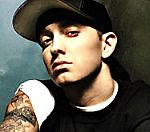 Eminem
and Sacha Baron Cohen worked together to stage their stunt at the MTV Awards in Los Angeles on Sunday, it's been confirmed.
In the prank, Cohen's über-gay character Bruno was lowered from the ceiling of the Gibson Amphitheatre until he straddled Eminem's shoulders dressed as a semi-naked angel.
The rapper seemingly stormed out of the ceremony following the incident, while members of his entourage grappled with the actor.
Eminem's reaction appeared to leave the audience and many TV viewers convinced that the incident had come as a total surprise to the rapper.
But MTV writer Scott Aukerman has today confessed that both Eminem and Cohen had orchestrated the trick before the ceremony started.
"Yes, the Bruno/Eminem incident was staged. That's all anyone wants to talk about, so let's get it out of the way," Aukerman wrote on his blog.
"They rehearsed it at dress and yes, it went as far as it did on the live show then."
The incident took place shortly after Eminem had performed a medley of his hits at the awards ceremony.
(by Jason Gregory)