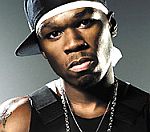 US rapper
50 Cent
has promised not to joke about the alleged altercation between
Chris Brown
and
Rihanna
, which reportedly left the singer with facial injuries.
50 Cent was criticised earlier this month after the pair were cast as characters from Street Fighter in an animated film on his website.
In the video, Brown, who was questioned by police on February 9th following a complaint of assault from an unknown woman, reported to be his girlfriend Rihanna, is jailed along with music mogul Suge Knight.
Speaking to MTV, 50 Cent said he initially thought the alleged incident between the couple in a Los Angeles suburb was something "you could use for humor".
But he added that he had decided it "wasn't funny any more" following the publication of an apparent picture of Rihanna, which appeared to show the star with cuts to her face.
"I didn't have any information on it. You're just going on what the public actually had. It shifts the whole thing," he said.
"Even if you're saying you're in a dysfunctional relationship, I understand that. There's a point when you're already past a woman fighting you back.
"You look at [the picture], and it's obviously past that point. There's some issues there that definitely gotta be addressed.
"Not to take any shots at Chris or Rihanna or take sides in any way, [but] it's really not cool. It's not funny anymore, so there will definitely be no more reference to that from me in any way."
The image appeared on TMZ last Friday (February 20th) - less than a week after the reported incident took place.
The LAPD have refused to confirm that the woman in the picture was Rihanna, but said they had launched an internal affairs investigation to uncover how the image had appeared in public.
TMZ yesterday (February 24th) defended their decision to publish the picture.
Meanwhile, Rihanna's spokesperson said over the weekend that the singer won't be "commenting about the incident involving Chris Brown."
Brown has already apologised over the incident and has said he is seeking counselling.
(by Jason Gregory)