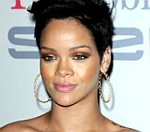 Celebrity website TMZ have defended their decision to publish a picture which apparently shows R&B singer
Rihanna
with facial injuries.
Executive producer Harvey Levin also denied reports that the website had obtained the picture illegally.
The image appeared on TMZ last Friday (February 20th) - less than a week after the singer was reportedly attacked by her boyfriend, singer Chris Brown.
"We believed it was not an LAPD picture and we are still not convinced it is," he told Fox News.
"The police department is sounding like they say it is, but they haven't said that unequivocally, either."
The LAPD have refused to confirm that the woman in the picture was Rihanna, but said they had launched an internal affairs investigation to uncover how the image had appeared in public.
Brown was questioned by police earlier this month following a complaint of assault from an unknown woman, reported to be Rihanna.
Brown and the woman are believed to have got into an argument in the Hancock Park area of Los Angeles.
In a statement on Saturday (February 21st), Rihanna's spokesperson said: "At the request of the authorities, Rihanna is not commenting about the incident involving Chris Brown."
Her spokesperson added that the singer wanted to "assure her fans that she remains strong".
Brown has already apologised over the incident and has said he is seeking counselling.
As previously reported, singer Ne-Yo has revealed that he has tried to make contact with both Rihanna and Brown to discuss the incident.
(by Jason Gregory)