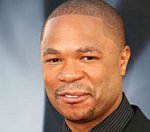 Xzibit
has compared
Chris Brown
to
Ike Turner
after a shocking photograph emerged showing the injuries
Rihanna
suffered in the alleged attack.
As reported this morning, TMZ.com published a photo of Rihanna leaked from the Los Angeles Police Department taken shortly after the alleged incident. It clearly showed facial bruising, scratch marks and a cut lip.
Writing on his Twitter page, Xzibit commented: "Damn Chris Brown. The photo of Rihanna is making you look like the new Ike Turner. All jokes aside, dude is about to have BIG problems."
He later posted: "Everybody is going off on Chris Brown now, before we get all the facts. there are 3 sides to EVERY story, lets just wait for the TRUTH."
Before adding: "I am in no way condoning what the media says he did, if it was my sis, I would want answers as well. Just hate 'WITCH HUNTS.'"
(by Scott Colothan)