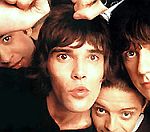 Sony have announced plans to release a 20th Anniversary version of
The Stone Roses
'
self titled
debut album.
The highly acclaimed record was first released in May 1989 and also received a 10th anniversary release in 1999 which was spread across two CDs.
This new release will come as a super deluxe collectors box set and has seen original producer John Leckie remaster all the tracks.
Further details of the track listing and smaller 'Legacy' editions will be announced soon.
(by Daniel Melia)