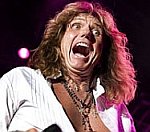 Def Leppard
and
Whitesnake
are the latest additions to this year's Download Festival, both playing the event on June 14.
Whitesnake made the revelation on their official Myspace page and it will mark the first time in 19 years the rockers have performed at Donington Park.
Both bands join the previously announced Motley Crue, Slipknot, The Prodigy, Devildriver, Dragonforce and Pendulum on the rock extravaganza bill.
The event will once again be held at Donington Park on the weekend of June 12-14.
(by Scott Colothan)