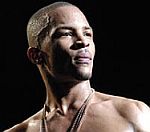 A new documentary is to chart US rapper
T.I.
's journey to jail next month, where he faces a possible 15 year prison sentence.
Road to Redemption, which begins on February 10th on MTV, follows the rapper during his recent community service, as well as the publicity campaign for his 2008 album 'Paper Trail'.
T.I. pleaded guilty last March to illegal possession of three machine guns and two silencers following an arrest in October 2007. He is expected to be given a one year sentence.
The rapper told reporters on Monday (February 2nd) that he was "proud" of the documentary, which begins with T.I. under court-ordered house arrest.
In the opening episode, the rapper attempts to tell the "whole story" behind his arrest, alluding to the killing of his close friend Philant Johnson in 2006.
"The one time I needed [a gun], I didn't have one," he says during the documentary.
T.I. was arrested by police in Atlanta in 2007 just hours before he was due to headline the BET Awards.
As part of his community service the rapper spoke to youth groups about the dangers of guns and drugs.
(by Jason Gregory)