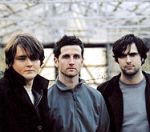 Новый альбом «
Perfect Symmetry
» британской группы
Keane
назван лучшей пластинкой года по итогам опроса меломанской публики, проведенного журналом Q Magazine и радиостанцией Q Radio. Второе место в списке лучших альбомов 2008-го занял лонгплей «
Dig! Lazarus Dig!
»
Ника Кейва и The Bad Seeds
, на третьей позиции разместился «
Supernature
»
Goldfrapp
.
Также в Топ-10 очутились «Dig Out Your Soul» Oasis, «Only By The Night» Kings of Leon, «Viva la Vida or Death and All His Friends» Coldplay, «The Seldom Seen Kid» Elbow, «Exotic Creatures of the Deep» The Sparks, «The Age of the Understatement» The Last Shadow Puppets и «Accelerate» REM.
Возвращаясь к героям нынешнего рейтинга Keane, отметим, что оба их предыдущих альбома – «Hopes and Fears» (2004) и «Under the Iron Sea» (2006) были отмечены в списке «Лучших британских альбомов всех времен», оформленном редакцией Q Magazine при помощи читателей издания ранее в этом году. (@Music)