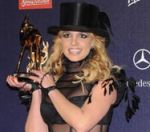 Britney Spears
echoed Madonna as she made her long awaited pop comeback at a German awards show last night (November 27th).
The singer wore a black burlesque costume and top hat as she performed new single 'Womanizer' at the 2008 Bambi Awards in Offenurg.
The costume was almost identical to that worn by Madonna on her recent Sticky & Sweet world tour.
The awards ceremony was the first time Spears had performed solo in public since her shambolic appearance at last year's MTV Video Music Awards in Los Angeles.
Spears also collected the Best International Pop Star accolade from fashion pioneer Karl Lagerfield.
She is in Europe this week publicising her new album 'Circus' and will make a another TV appearance on this weekend's edition of The X Factor.
(by Jason Gregory)