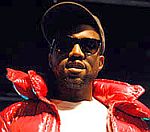 US rapper
Kanye West
has spoken about his plans to tour next year.
The rapper,who released new album '808s and Heartbreak' on Monday (November 24th), said he would like to perform 'in the round for fans.
He wrote on his blog: "All the controversy aside, life is great. I've already started conceptualizing a tour idea for next summer.
"I want to do it in the round (perform in the middle of the arena)."
Writing from Amsterdam, where is currently performing on his Glow in the Dark tour, West also spoke about his move into the fashion world.
Under a picture of himself wearing one of his designs at the American Music Awards (AMAs), the rapper said fans could expect clothes from his Pastelle line to be available early in the New Year.
"I'm gonna start releasing some of the pieces online starting in January," West wrote.
"The jacket from the AMA's, the Warrior hood that I wore at the Dior show and this one here. I actually designed this one and the jacket from the AMA's less than 3 weeks ago! I'm really happy with them!"
West will join a long line of hip-hop stars who have launched fashion lines, including Jay-Z and Pharrell Williams.
(by Jason Gregory)