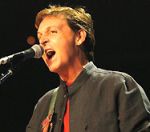 A poem written by Sir
Paul McCartney
for the comedian Spike Milligan has raised £6,000 at an auction in London.
The handwritten poem, entitled The Poet of Dumswoman Lane, includes a cartoon called The Nutters of Starvecrow Lane, which features a man and woman giving a thumbs up sign.
Auctioneers at Bonhams auction house had only expected it to fetch between £1,500 to £2,000.
Sir Paul often visited Milligan's house in Rye for a cup of tea when the Beatles were recording nearby.
The poem, which is addressed to SPIKE MAN, reads:
"The voice of the poet of Dumbwoman's Lane/Can be heard across vallies [sic] of sugar-burned cane/And nostrils that sleep through the wildest of nights /Will be twitching to gain aromatic insights.
"The wife of the farmer of Poppinghole Lane/Can be seen from the cab of the Robertsbridge train/And passengers comments will frequently turn/To the wages the wife of a farmer can earn/The poet of Dumbwoman's lane sallies forth/He is hoping for no-one to see."
The poem is signed: "With love Paul (YESTERDAY'S MAN.)" Milligan died six years ago aged 83.
A total of 100 lots raised £73,000 at the auction yesterday (November 25th).
(by Jason Gregory)