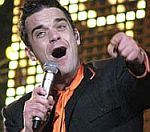 Robbie Williams
has apparently claimed that a bad experience with the drug LSD made he want to stab himself.
Writing on his official website, the former Take That star said the incident happened at a nightclub in his hometown of Stoke-on-Trent when he was sixteen.
"It was at Shelleys where I had my first acid experience. We were in Golden Hill, in someone's kitchen probably," he wrote on his blog, which has been serialised by the Mirror.
"I was given a tiny piece of paper to ingest. E's were too expensive for the Potteries. £15 – who could afford that? There was a band called the Prodigy performing that night and I thought they were really good.
"Afterwards we drove up to the garage and the police were on the forecourt. Shit, I thought. I want to go home, I'm scared.
"There is only one place I want to be – at home with my mum."
Recalling the impact the drug had on him, Williams added: "American footballs were coming out of the TV. So I decided to go downstairs and stab myself. Mum came out of her room and said, 'What are you doing?'
"'I'm just going downstairs to stab myself – do you want a cup of tea?' I said."
Williams is currently recording his new studio album which, according to he manager, will be released in 2009.
(by Jason Gregory)