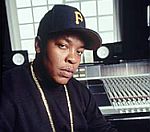 Dr Dre
's long awaited new album won't be released until next year after the rapper was forced to put the record on hold in order to work with
Eminem
.
Dr Dre had widely been expected to release '', which was originally scheduled for release in 2004, before the end of 2008.
However, the producer abandoned work on the project in order to produce friend and long-term partner Eminem's new LP 'Relapse'.
In an interview with Billboard, Interscope-Geffen-A&M chairman Jimmy Iovine said Dr Dre was due to go back into the studio in January.
"He'll be finished with Eminem by then, and he'll finish his album," he added.
Iovine also cleared up speculation about the release date for Eminem's new album, confirming that it would be dispatched in the New Year.
"Eminem was always coming next year. But what happened was, I lost Dr. Dre to Eminem. Dre had to stop making his album to finish Eminem's album," he said.
"Eminem hit a streak, and when a guy like Eminem gets on fire, you stop everything. That's how we lost Dre.
He added that there was "no truth" in reports that 'Relapse' would be an exclusive retail-only release like Guns N' Roses 'Chinese Democracy'.
(by Jason Gregory)