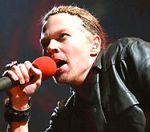 Guns N' Roses
new studio album '
Chinese Democracy
' has finally gone on sale in America.
The album, which has been fourteen years in the making, is available exclusively in Best Buy stores.
As previously reported, the album was made available on the band's MySpace page last Thursday (November 20th).
At its peak, Guns N' Roses' music player was attracting 25 plays a second from fans keen to hear their new record.
Drinks company Dr Pepper has promised each American citizen a free drink after the band matched their challenge to release the album before 2009.
The album, reported to have cost frontman Axl Rose $2million to make, is out in the UK on November 24th.
(by Jason Gregory)