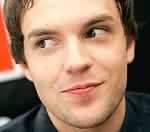 The Killers
' frontman Brandon Flowers has revealed that when the band met Sir
Paul McCartney
recently the former
Beatle
was wearing an
Alice Cooper
mask.
The meeting took place after the group's sold out show at London's Royal Albert Hall earlier this month.
Flowers said they were shocked when Sir Paul bumped into them on their way back to their dressing room.
"He was wearing the mask and dancing around. Then he took off the mask and introduced himself," Flowers told the Daily Mail.
"As a band, we're not very good socially. Words usually fail me in those situations anyway, but that was a particularly weird one.
"At first, we all just stared at him. What do you say to Paul McCartney? Eventually, we did get chatting, and he told us that it had been a great show.
Flowers admitted that he found meeting a Beatle a "daunting" experience.
"People in Britain know what an important band they were. But when you come from the States, that feeling is magnified. They were untouchable," he added.
(by Jason Gregory)