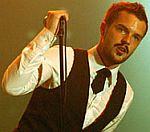 The Killers
frontman Brandon Flowers has admitted he is frustrated by fans' inability to g.php the lyrics to their new single 'Human'.
The words in the song's chorus - "Are we human?/ Or are we dancer?" - have left critics and fans bemused since the song debuted last month.
While some have argued that Flowers lyrics aren't grammatically correct, others have claimed that he actually sings "denser" instead of "dancer".
Although Flowers has already confirmed that he sings "dancer", he told the Daily Star he was upset by the confusion the song has caused.
"That sucks a bit. I don't like, 'Are we denser?' as an alternative," he said. "I really care what people think but people don't seem to understand Human.
"They think it's nonsense. But I was aching over those lyrics for a very long time to get them right."
In an interview with MTV last month, Flowers said the lyrics was taken from the Hunter S. Thompson quote - 'We're raising a generation of dancers'.
'Human' is the first track from the band's new album 'Day And Age', which is released next week.
(by Jason Gregory)