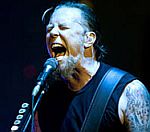 Metallica
frontman James Hetfield has mocked the time it has taken for
Guns N' Roses
to release their new album '
Chinese Democracy
'.
In an interview with the Houston Chronicle, Hetfield said he would "certainly" listen to the album but added: "I haven't lost sleep waiting for it".
'Chinese Democracy', which has been nearly fourteen years in the making and is reported to have cost frontman Axl Rose $2million, is released on Sunday (November 23rd) in the US.
"I thought we took a long time to make an album. But you know he's late for everything so it makes total sense," Hetfield said.
"We saw him play at a festival in Germany two years ago. He's a good frontman. He's eccentric, but all artists are. If they don't show that they're quirky, they're lying to you.
"They're either pretending they're not or they're pretending they're an artist."
Hetfield famously injured himself on stage during Metallica and Guns N' Roses 1991 stadium tour.
The band later claimed in an interview that they learnt not what to do live by observing Guns N' Roses at close range.
(by Jason Gregory)