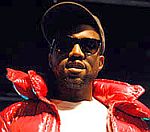 US rapper
Kanye West
has criticised Justin Timerblake for failing to realise his full potential.
The rapper, who releases his new album, '808s and Heartbreak', later this month, said Timberlake's slow work rate had enabled him to come out on top.
"I realise that my place and position in history is that I will go down as the voice of this generation, of this decade, I will be the loudest voice," West told the Associated Press, echoing a statement he said in Asia last week.
"It's me settling into that position of just really accepting that it's one thing to say you want to do it and it's another thing to really end up being like Michael Jordan."
He added: "There were people who had the potential to do it but they went on vacation, so when Justin went on vacation I made albums."
(by Jason Gregory)