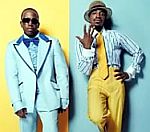 The members of
Outkast
will release a total of three albums in 2009, including a new LP from the duo, rapper
Big Boi
has revealed.
The Outkast star told MTV that he would be releasing his own solo album, produced by Dr Dre, in the first two months of 2009.
The album's debut is likely to coincide with the release of his partner Andre 3000's new solo LP, which is also expected early in the New Year.
Speaking about his plans for 2009, Big Boi said: "Me and 'Dre were on the conference call [recently]. He's working on his album; my album is done. We're gonna wait until the top of the year - January or February - to put it out.
"Then 'Dre is gonna come hit y'all, and [then] we're gonna do the Outkast album. So y'all gonna get three records from the 'Kast next year."
In September, Andre 3000 said he had been working by himself on his new album, which he explained would feature impressive ambition.
(by Jason Gregory)