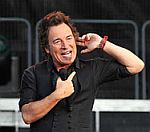 Bruce Springsteen
will debut a new track during NBC's Sunday Night Football game this week.
'Workin' On A Dream' is expected to feature on the singer's as-yet-untitled new album, which is scheduled for release next January.
Springsteen performed the song earlier this month at a rally in Cleveland for president-elect Barack Obama.
'Workin' On A Dream' will air in the halftime highlights of the football game between Dallas Cowboys and Washington Redskins.
Springsteen's last studio album, 'Magic', was released in 2007.
(by Jason Gregory )