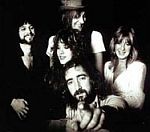 Fleetwood Mac
guitarist Lindsey Buckingham has offered to serenade President George W Bush's departure from the White House.
Buckingham, a Democrat supporter, has written a song called 'Treason' which he said is "all about selfishness and greed".
Bush will hand over his position to president-elect Barack Obama in January.
Fleetwood Mac famously performed their song 'Don't Stop' at President Bill Clinton's inauguration ball in January 1993.
And the guitarist told the Telegraph that he would be "delighted" if they could do the same for Mr Obama.
(by Jason Gregory)