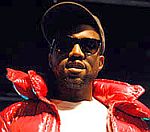 US rapper
Kanye West
has said he wants to be the greatest performer of his generation.
In a rare interview – which can be seen below – he also spoke about the Beatles and named the genre of his current style of music.
"Every time that I perform I'm always thinking ... my plan is to be the greatest performer of this generation," West told reporters in Asia.
The rapper, who is preparing to release new album '808s and Heartbreak' later this month, said his older material was beginning to become "embedded" in his fans' minds.
But he criticised groups who proclaim their new material to be "better that the Beatles".
"It is impossible to make an album better than the Beatles unless you've got 30 years," he said.
"Beatles records — people have known them their whole lives ... hopefully five years from now people still play 'Love Lockdown' and people still play the records that I'm doing right now."
West described the genre of his new album as pop-art – and said the only other artist who could fit into the style would be Pink Floyd.
(by Jason Gregory)