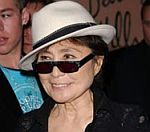 Yoko Ono
, the widow of
John Lennon
, has spoken about her endorsement of a special
Beatles
edition of video game Rock Band.
Ono, Sir Paul McCartney and Ringo Starr have all given their approval for the game, which will be released next year.
Speaking to Entertainment Weekly about the project, Ono said: "All of us are actually pretty hip, so we said yes. I'm personally very excited.
"[The game] lets you participate in a way where you're really [immersed in] the music.
"With so many young kids into The Beatles, it's a start to a beautiful new page in [the band's] history.
"Maybe they'll start to make music and not just listen to it, and really understand what it's about."
The game will mark the Beatles' first major step into the digital age.
Until now, Apple Corps, their multimedia corporation, have always withheld the band's music from digital platforms.
They are still one of the few bands not to feature on Apple's iTunes music store.
(by Jason Gregory)