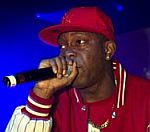 British grime star
Dizzee Rascal
has hinted that he might run for Prime Minister following Barack Obama's win in the United States presidential elections.
Rascal told the BBC's Newsnight programme that the overwhelming support of for Mr Obama showed colour no longer matters in politics.
He also spoke of the importance of the role hip-hop music had played in Mr Obama's election win.
"I don't think it matters what colour you are, it matters what colour your heart is man, and your intentions," he said.
"I think a black man, purple man, Martian man can run the country, whatever man, as long as he does right by the people.
"It's positive because he's mixed race as well, so it's a symbol of unity and you know what, hip hop played a big part in this as well.
"Hip Hop is what encouraged the youth to get involved in voting and making the place better."
Rascal was then asked by Newsnight host Jeremy Paxman if he would consider running for office one day.
To which he replied: "See that's a very good idea, I might have to do that one day still. Dizzee Rascal for Prime Minister yeah?"
Mr Obama's win on Tuesday has been praised by music stars around the world, including, Madonna, Kanye West and Jay-Z.
(by Jason Gregory)