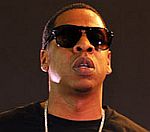 President-elect Barack Obama's journey to the White House began with the civil rights pioneers Rosa Parks and Martin Luther King, rapper
Jay-Z
has said.
The rapper told a rally in Philadelphia before Mr Obama's election victory that the Democrat would help continue the legacy left by both Parks and King.
"I need y'all to be really, really quiet for this. I need you to really understand what I'm telling you. Rosa Parks sat so Martin Luther King could walk," the rapper said.
"Martin Luther King walked so Obama could run. Obama's running so we all can fly."
While King is regarded as the public face of civil rights in America in the 1960s, Parks is widely regarded as the "mother" of the Civil Rights Movement.
After two-years of campaigning, Mr Obama comfortably defeated Republican rival John McCain yesterday (November 4th) to become the first African-American to claim victory in the United States presidential elections.
Mr Obama thanked thanked his family, campaign team and supporters as he addressed a victory rally in Chicago last night.
Jay-Z has been one of Mr Obama's most prominent supports from the music world.
(by Jason Gregory)