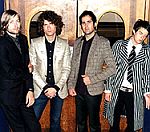 'Spaceman', a song from the
Killers
' forthcoming third album, '
Day and Age
', has appeared online.
The finished version of the track is currently circulating on a number of file-sharing websites.
The song, which is about an alien abduction, proved popular early this year when the band previewed it at a show in New York.
As previosuly reported, The Killers played a number of songs from their new album during an intimate show at London's Royal Albert Hall on Monday (November 3rd).
'Day and Age' is released in the UK on November 24th.
(by Jason Gregory)