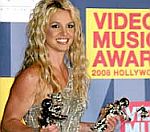 Britney Spears
has begun to avenge her years of torment at the hands of the paparazzi by exposing them on her
website
.
The singer, who was last year filmed shaving her hair off, has said she plans to post an embarrassing video of a photographer each week.
The first video on her website, which shows a paparazzo tripping over as he tries to film the singer, is accompanied by the caption: "This photographer eats some dirt while trying to get a shot of Britney."
Each photographer who appears on Spears' website will receive a "paparazzie" award.
A message on her website said: "Terrorising Britney has unfortunately become a daily part of the paparazzi's lives.
"So we've decided to start calling these maniacs out each week by awarding a paparazzie to the worst of the worst."
Spears is due to release her new studio album, 'Circus', on December 1st in the UK. She is also scheduled to appear on the current series of ITV's The X Factor.
(by Jason Gregory)