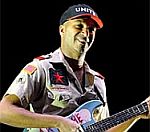 Rage Against The Machine
's
Tom Morello
has hailed Barack Obama's victory in the US presidential elections.
In an interview with Spinner, Morello said he was overwhelmed and said Mr Obama's win could be revolutinary for America.
"I honestly thought I'd never live to see this day. Obama's election is a huge step towards civilization for a country whose past is so steeped in racism," he said.
But Morello, who is currently on a solo US tour, said it was "imperative" that Americans don't forget to campaign on issues close to their heart just because of Mr Obama has made it to the White House.
"I think it's imperative for us to continue to organize and push for human rights, peace, and economic justice no matter who is in the White House," he said.
"Undoing the domestic and international crimes of the Bush administration will not be easy."
Morello is the latest in a long list of musicians who have expressed their satisfaction with Mr Obama's triumph.
(by Jason Gregory)