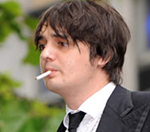 Pete Doherty
has been photographed eating hypodermic needles for a new art exhibition.
The Babyshambles and Libertines singer can be seen tucking into a plate of needles and other drug paraphernalia in the photo by French photographer Steve Wells.
The picture forms part of Wells' collection, À table, which also features Nicolas Ullmann and Emma Thery.
Wells said he asked Doherty to participate after he spotted him drinking at Paris café.
"I was surprised by his honesty in choosing to eat needles," Wells said. "Under all the bullshit, he seems a genuine nice, intelligent guy."
Meanwhile, The Libertines are set to play the Reading and Leeds festivals later this month.
(by Jason Gregory)